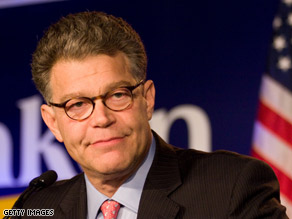 After a long, hard fight, Al
Franken
has finally been sworn in as Senator of Minnesota, and his first act shows his support for working people.
Franken has always been a strong supporter of workers' freedom to form unions—after all, he has membership in 5 of them--and has signed on to co-sponsor the Employee Free Choice Act. His vote should help to boost
Democratic efforts
on health care and judicial nominations as well--but his voice is strongest when it comes to labor.
Congratulations to Sen. Franken in his new role on Capitol Hill, as the second senator from Minnesota. It's a role that's been waiting for him a very long time.